Banza, maker of chickpea-based pizza, pasta, and rice products, has launched Masterpiece'zas – a new pizza kit that transforms Banza's popular pizzas into creative art. Available in both vegan and vegetarian versions, each kid-friendly kit is designed to stimulate more play and imagination at dinnertime.
"We created Banza Masterpiece'zas to inspire creativity and joy around a nutritious dinner"
Timed to coincide with back-to-school seasons, Banza's kits aim to make family mealtimes easier while helping parents to implement healthier eating habits. Masterpiece'zas come equipped with ingredients that act as art supplies for decorating, drawing and slicing.
The kits include:
Banza Pizza, made from chickpeas, tastes like traditional crust and acts as a blank canvas
Farmer's Fridge

fresh, pre-sliced vegetables

Tupperware

Deco Pens to fill with sauce or dressing and draw on top of the pizza

Tiny Bites

scissors to give parents a creative way to slice the pizza

Gotham Greens

Vegan Pesto made with fresh basil to add color

Burlap & Barrel

oregano to accessorize the artwork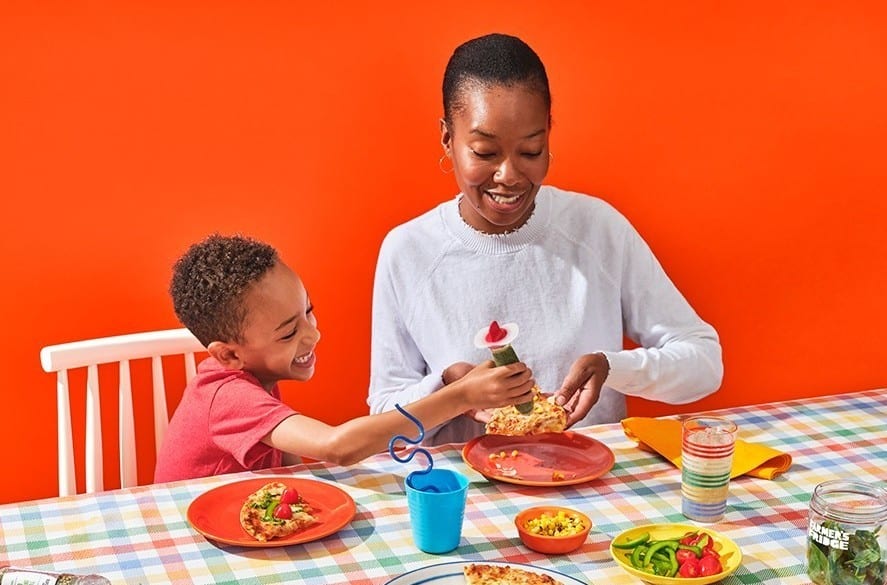 Top chickpea brand
Masterpiece'zas are now available for $49.99 each on EatBanza.com. Fifty percent of the item's sales will be donated to the Whole Kids Foundation to improve child nutrition and wellness.
Founded in 2014, Banza is the first commercial producer of chickpea-based comfort foods in the US. Its best-selling gluten-free pizza line is now carried in 11,000 stores nationwide, with the brand saying it is driving 40% of growth in the better-for-you pizza category. Banza's products are a favorite of celebrities including Lizzo, Drew Barrymore and Kristen Bell.

"One of the best foods"
"We created Banza Masterpiece'zas to inspire creativity and joy around a nutritious dinner," said Brian Rudolph, co-founder and CEO of Banza. "Chickpeas are one of the best foods for human health and the environment. To celebrate the versatility of the ingredient and the love for pizza, we're challenging our community to use Banza's pizza crust as a canvas for art."